home > about us > about the president

Professional Interests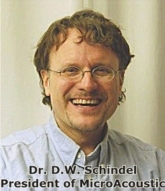 David Schindel received his B.Sc. and PhD degrees in Engineering Physics from Queen's University, Canada in 1988 and 1995, respectively. His research interests as a PhD student included: measurement techniques for high-temperature acoustics; high-temperature acoustic thermometry and standards; the development of ultrasonic capacitance transducers for solid, liquid and gaseous media; and the application of micromachining techniques to transducer and sensor design.
Upon graduation, Dr. Schindel spent 2 years as a Research Associate at Canada's National Research Council (NRC) in Ottawa. Here, within the Institute for Aerospace Research (IAR), David explored the potential of his patented broadband air-transducers for non-contact inspection of aerospace materials and structures.
Resisting the lure of academic job-offers, and believing strongly in the future of gas-coupled ultrasound, David then set out on his own to establish MicroAcoustic Instruments Inc. in 1998. This Canadian federal corporation was formed with the intent to fully develop the enormous potential for broadband micromachined capacitive transducers within the fields of gas- and liquid- coupled ultrasound.
Dr. Schindel prides himself as a competent and thorough experimentalist, and has a strongly creative and inventive mind. He has presented more than 30 papers at international scientific conferences, published over 20 publications in respected scientific journals, and holds key patents in the areas of micromachined transducers and air-coupled ultrasonic application. David is further licensed as a Professional Engineer in the province of Ontario.

Personal Interests

David's main passion is wilderness canoe tripping and spends a good portion of every summer running remote whitewater rivers in the wilds of northern Canada. Playing classical guitar, consuming books on early Canadian explorers, and playing hockey and sailing are but some of his other primary pursuits.